Reservations
Southwood Golf Club gladly accepts members (two weeks out) and public (one week out) reservations online, 24 hours a day, 7 days a week.
Effective 1 Oct 2023:
Southwood reserves the right to charge a $25 no-show fee per player (including members).  Cancellations must be made at least 48 hours in advance.
– No dogs are allowed on the course.  Service dogs must have an ADA vest and a mat for the cart seat to prevent rips or tears from the service dog.
– No personal coolers with outside alcohol.
– No fivesomes+ groups.
– Players will be paired, where possible, to maximize the use of carts.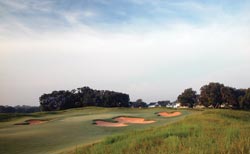 Group Reservations
Have a group of 16 or more players? Please call 850.942.4653 to discuss Southwood hosting a golf outing or tournament, or click here to request more information about outings and tournaments.
Golfers with Disabilities
We welcome golfers with disabilities. SouthWood Golf Club will make reasonable accommodations to ensure that golfers with disabilities are able to enjoy the course. Please contact the General Manager for more information.
Member Reservations
SouthWood Golf Club Members may reserve tee times up to 14 days in advance via the Internet or Telephone. Interested in becoming a member?   Click here for more information.